So many things I want to do, so little time!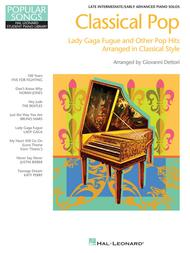 While it's true that voiceover work is where I'm focusing my creative efforts right now, I get a lot of enjoyment from playing music. My day job has been more busy and stressful than usual this week, so one thing that oddly helps me mentally relax is to go work on learning or practicing difficult piano pieces. The song I'm working on right now is called "Lady Gaga Fugue," arranged by Giovanni Dettori – it's based on "Bad Romance" but it's done in a baroque J.S. Bach style! It's just challenging enough to be impressive. I'll try and post a video once I get it up to speed.
And I'm excited to make my debut on tenor sax in the North Coast Big Band at a Labor Day Concert in the Park this Monday! I have always wanted to play in a jazz band sax section. I've only ever played tenor once in my life, so I was intimidated when they asked me to join … but I've gotten to know the horn and found a mouthpiece that works for me, and I'm pretty happy with the way things are going! I have solos on Little Brown Jug, Sweet Caroline, American Pie, and Jump Jive and Wail. If you happen to be near Clatskanie, Oregon on Sept. 5 at 2 p.m., stop by and have a listen!
In the VO world, I just finished up four coaching sessions with Marc Preston, who's been in the business more than 20 years. You might have heard him doing promos for TV stations all over the country. He's helped me understand how to approach auditions and performances, and how to ask the right questions so I know what kind of emotion a script is calling for. I think it's helping …?
Recent jobs have included an ad for a wedding venue marketing app; an employee training on cybersecurity for a large corporate bank; a white paper on digital payment trends; lab instructions for quality testing for a concrete manufacturer; how-to videos for using a home injection system for an osteoporosis drug; and several more home health aide training videos. And I'm halfway through narrating Slaughtering Girl, the historical epic set in 20th-century China by Robert Sultan.
And yet I'm jonesing for the free time to pursue still more creative projects. There's a novel, a couple short stories, some songs for my son's movie and video projects, and at least two stage musicals I need to get out of my head and onto paper SOON. Some people long for the day they can quit working and start doing nothing … I can't wait until I can quit working so I can GET TO WORK!
Thanks for keeping up with my goings-on. If I can contribute to your success in any way, please reach out!
Kathleen